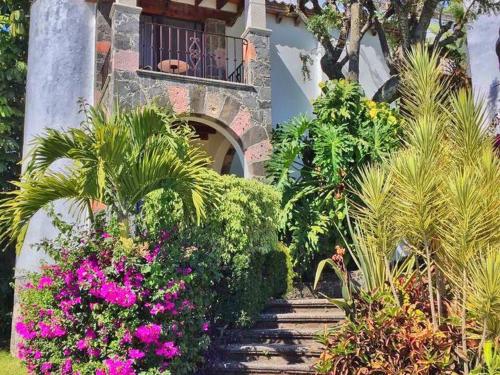 CHECK IN 3:00 p.m.
CHECK OUT 11:00 hours (Tolerance of 60 minutes without cost)
Changes or cancellations:
From the moment the reservation applies a charge of 10% of the total of your stay for any change or cancellation of 3 days or less of the arrival date, a charge of 100% of the total lodging package will be made.
Children under 12 years old without charge in Double Category and Junior Suite, with 13 years old will be considered as adults to carry out the charge.
For weekend bookings a minimum of two nights of accommodation is required.
REGULATIONS FOR PETS
Travel to Tepoztlán Morelos without losing your best friend at home. At POSADA DEL TEPOZTECO we welcome your pets, know our regulations and take into account the following requirements:
Your pet must have a maximum weight of 15 kilos.
Contact the host for more information with the tags indicated as Pets are accepted in Posada del Tepozteco, so you can click here accept pets.
Only one pet allowed per room.
Every owner must bring the bed or rug, as well as the container for water and food of your pet.
WITHOUT EXCEPTION you must carry your strap tied to your neck at all times inside the hotel facilities.
The entire pet must be supervised by a person ALWAYS.
It is forbidden for pets to sleep on the furniture in the room.
For no reason is the pet allowed to remain inside the room without its owner for more than two hours. In case this situation is removed, the pet of the room will be called.
The pet can not be in the pool area or inside the dining room. You can be on the restaurant's terrace on a leash and supervised by its owner at all times.
It is mandatory for the owner to always carry plastic bags to collect the stool of his pet.
Any damage or injury caused by the pet, other pets or real estate is the TOTAL responsibility of its owner.
The space and tranquility of the other guests must be respected.
The hygiene of the pet as well as the area where it remains is the responsibility of its owner.
The maid can not access the room to clean it if the pet is inside the room without its owner
We ask that you be responsible for your pet.
At the time of check-in or access to the restaurant, the owner must read and sign this regulation.
The hotel management reserves the right to admit or not to admit the pet, at their own discretion.